HKVN4037A Motorola IMPRES FLEET MANAGEMENT - Licence Key
Kód:
HKVN4037A
Detailní popis produktu
IMPRES FLEET MANAGEMENT Software Licence Key
This orders the licence key of Fleet Management Software application.
INTUITIVE BATTERY MANAGEMENT AT YOUR FINGERTIPS
A radio is only as good as the battery that powers it. When a battery fails, communication is lost, and every aspect of your organization is impacted, whether it's serving ustomers or saving lives. At the same time, monitoring the individual statuses of a large fleet of batteries can be inefficient, time-consuming, and as a result, ineffective.
That's why we created our IMPRES™ Battery Fleet Management technology. This solution mitigates efforts behind the complexity and costs related to battery and harger management, making it easier for you and your employees to work safely and efficiently. Ensure optimal fleet performance with an updated user interface, meant to ease management and analytics capabilities.
MAKE BETTER OPERATIONAL DECISIONS WITH THE RIGHT DATA
WHY IMPRES?
From the beginning, IMPRES batteries were designed as an integral part of our two-way radios for optimal performance. When the IMPRES Battery Fleet Management oftware collects critical data, it allows you to analyze key aspects of the battery, such as battery age, capacity, recondition history and manufacturing and service dates. This information is then compiled into an accessible, user-friendly layout, so you are able to efficiently understand your devices' data
HOW DOES IT WORK?
Our IMPRES Battery Fleet Management software automatically collects critical data from IMPRES or IMPRES 2 batteries when they are inserted into an IMPRES 2 charger, including battery age, capacity, charge and recondition history, the dates manufactured and put into service. Its browser-based interface shows you overall attery health and lifespan, providing you with insights to determine when to remove a poor-performing battery, redeploy batteries among your team or purchase a new one.
IMPROVE PRODUCTIVITY AND SAFETY ACROSS TEAMS WITH BATTERY MANAGEMENT
Whether in the heat of a structure fire or at the center of a construction site, there's no time to worry about battery life and readiness; radio users must have confidence in heir batteries.
Worry less with IMPRES Battery Fleet Management, which provides key information that allows radio users to manage batteries and mitigate risks.
IMPRES™ BATTERY FLEET MANAGEMENT IN THE CHARGER
BOOST EFFICIENCIES AND BRING DOWN COSTS

Are you replacing all batteries on a certain date, whether you need to or not? Responding to worker complaints that batteries are losing their charge too quickly? Unsure if they're properly charged or reconditioned? IMPRES Battery Fleet Management eliminates the guesswork, uncertainty and frustration behind owning and managing devices. Because this software automatically retrieves health and status data for every battery in your fleet, you can avoid the expense and waste that comes with premature battery replacements. Automatic retrieval also ensures that batteries aren't used beyond their recommended life span- reducing work interruptions, downtime and operation inefficiencies. With a redesigned interface, the IMPRES Battery Fleet Management software allows you to save on battery and operational costs over time. It is designed to not only increase battery reliability and performance but to also improve worker productivity and safety.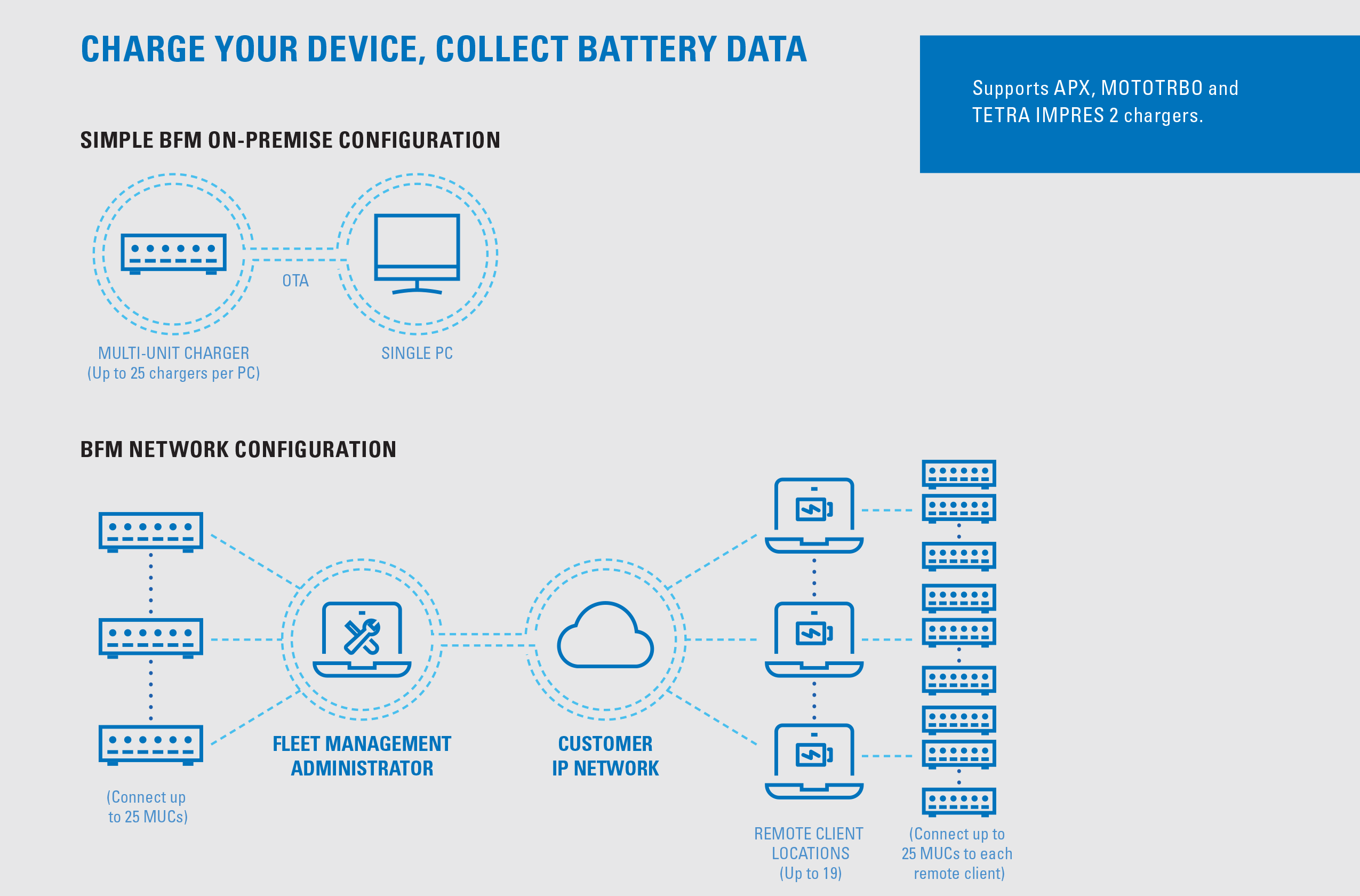 IMPRES™ BATTERY FLEET MANAGEMENT OVER THE AIR
MONITOR BATTERY DATA AND HEALTH REMOTELY
Easily manage specific devices with Over the Air (OTA) IMPRES Battery Fleet Management. Compatible with APX, MOTOTRBO R7, XPR 7000, XPR 3000, DP, DGP and XiR Series Radios. Using IMPRES batteries, this software combines the benefits of battery management with the ease of remote data collection. When used with compatible devices, OTA IMPRES Battery Fleet Management automatically collects battery data whenever radios are in use. It eliminates the need for wired network connections or computers while simultaneously providing important battery information. This software capability enables real-time data uploads from any compatible radio in the field, and it incorporates radio-specific information for asset tracking. OTA IMPRES Battery Fleet Management is accessible with APX, MOTOTRBO R7, XPR
7000, XPR 3000, DP, DGP and XiR Series Radios that have the supporting radio software, IMPRES Battery Management and a software license key.
With improved IMPRES Battery Fleet Management accessibility, you can now use OTA management even more seamlessly than before. Not only can you receive realtime battery data anywhere, but you can also receive it on any device. Battery data can now be viewed through a web-based interface on any browser connected to a
client's secured network, including MAC, PC and tablets.
With MOTOTRBO radios, OTA management communicates with the radio system or a configured mobile radio station through the Motorola Network Interface Service (MNIS) to deliver real-time data.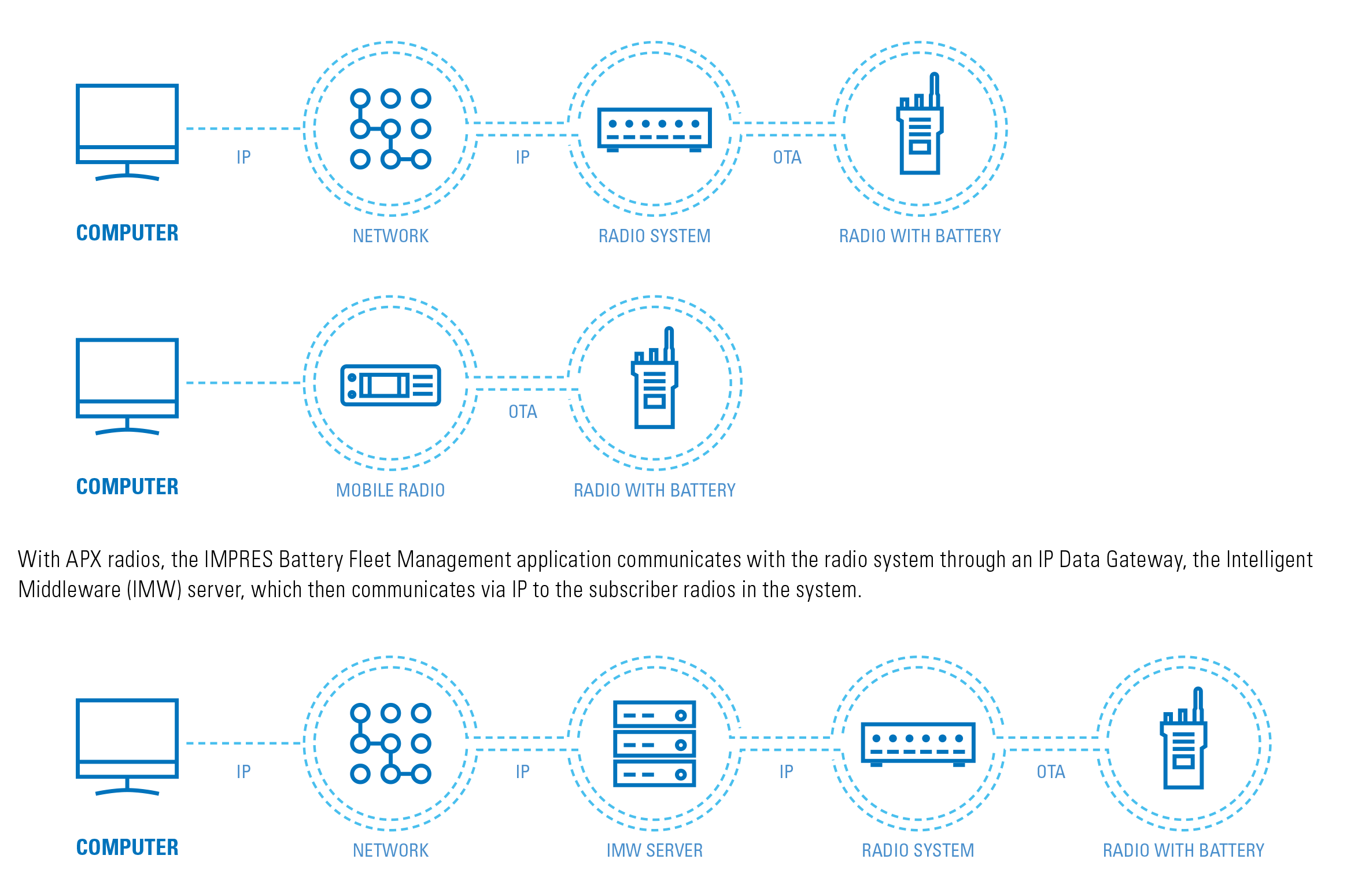 Výše uvedené informace mají pouze informativní charakter. Pro ověření informací nás neváhejte kontaktovat prostřednictvím kontaktního formuláře, nebo na uvedených telefonních číslech.
Doplňkové parametry
Kategorie

:

Software licence - rozšíření funkcí
KOMPATIBILITA S RADIOSTANICÍ

:

DP2400, DP2400e, DP2600, DP2600e, DP3441, DP3441e, DP3661e, DP4400, DP4400e, DP4401, DP4401E, DP4600, DP4600e, DP4601, DP4601e, DP4800, DP4800e, DP4801, DP4801e, DP4401 Ex, DP4801 Ex
Buďte první, kdo napíše příspěvek k této položce.
Buďte první, kdo napíše příspěvek k této položce.